Jobs
The GSA posts internal (GSA & Mike's Place) job opportunities as well as external job opportunities. Know of a job opportunity you would like posted on our website? Email our Office and Communications Coordinator (occ@gsacarleton.ca).
The GSA values employment and educational equality and welcomes applications from diverse groups including (but not limited to) women; aboriginal people; people of colour; people with disabilities; international students; and gay, lesbian, bisexual, and transgender people.
Note that job postings remain here even after their closing dates.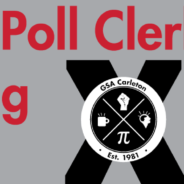 If you are not interested in running for a position but would like to be involved in the electoral process, the GSA will also be hiring Poll Clerks. Please drop off resumes at the GSA office or send them via email to elections@gsacarleton.ca by noon on Tuesday March 14, 2017. All applications should be include the applicants availability to work on voting days (March 21, 22, and 23). Poll clerks will be remunerated at $15/hour. If you have any questions regarding the Poll Clerk position and hiring please contact the CEO at...
read more