Jobs
The GSA posts internal (GSA & Mike's Place) job opportunities as well as external job opportunities. Know of a job opportunity you would like posted on our website? Email our Office and Communications Coordinator (occ@gsacarleton.ca).
The GSA values employment and educational equality and welcomes applications from diverse groups including (but not limited to) women; aboriginal people; people of colour; people with disabilities; international students; and gay, lesbian, bisexual, and transgender people.
Note that job postings remain here even after their closing dates.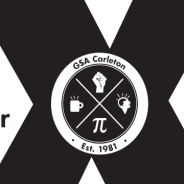 The Graduate Students' Association will be holding a referendum in September. The GSA requires a Chief Electoral Officer to administer the election process from the nominations to the tabulation of results. In addition to getting involved with your GSA, this is a good opportunity for a graduate student to gain experience in organizing and running a referendum. Position Term: Varied (+/- 5 weeks) (Late August through September) Remuneration: To be negotiated Number of Positions: 1 -2 (one to two) Job Description: The position of CEO...
read more