The Art of Self-Care: Using Creativity for Comfort
2017/02/14 @ 5:30 pm

-

8:00 pm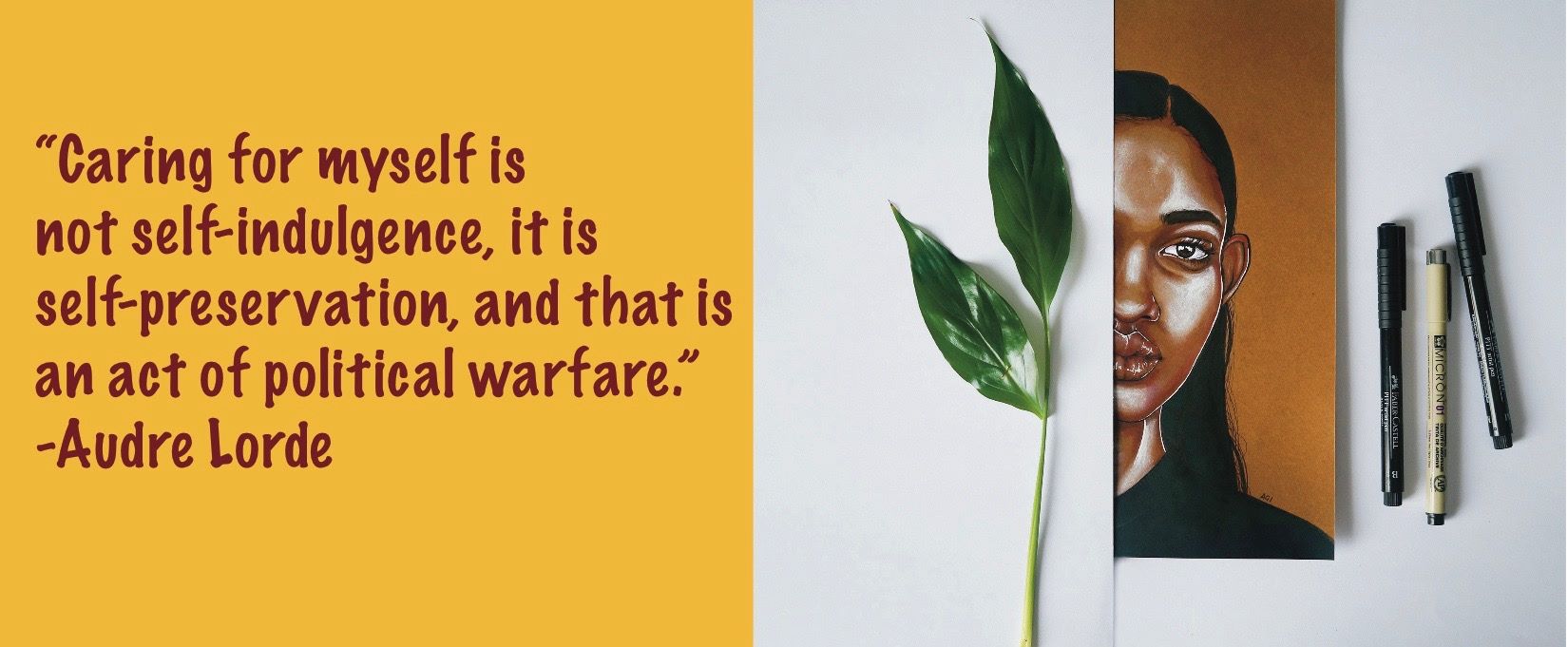 Black History Month is often devoted to reminding us about our oppression and the violence we've experienced as marginalized individuals. Although these conversations are incredibly necessary and essential to the deconstruction of racist/patriarchal/ableist/classist/homophobic structures, they can weigh us down and affect our mental health.
As such, the purpose of this workshop is to:
a. Establish a safe space for black femmes who share experiences of multilayered oppression to prioritize their well-being
b. Understand the ways in which expressing creativity can positively contribute to mental health
c. Share resources, methods and tips for self-care through creative means
The workshop will take place on February 14th and take the approach of a Sip & Sketch—largely informal, socially critical and creatively engaging. The 2-hour workshop will feature a combination of a short presentation, group discussion and creative activities.
Facilitator: Ojo Agi is a Nigerian-Canadian artist.
She earned her Bachelor of Health Sciences with a minor in Women's Studies from University of Ottawa in 2014. Informed by anti-racist feminist theory, she uses her art practice to explore issues of race, gender and cultural identity. She aims to challenge the myopic lens with which women of colour are often portrayed; but, also, use each piece as an opportunity to learn and un-learn what is beautiful to her.
She is currently based in Toronto, Canada.
Accessibilty:
Content Warning – Due to the nature of Grad Wellness Group, and the meditation series, people will possibily discussing personal experieces. Please be mindful of the space and confidentiality.
There will be 1-2 peer support workers available at each meditation event. There will be space made available in the boardroom for anyone need
The venue can be reached by the 4,7, 104, and 111 buses, or the O-Train. There is one elevators that leads to the 6th floor of the university centre that can be found closest to the Tim Horton's on the 1st floor. Both the room and one bathroom in the GSA are wheelchair accessible. All three bathrooms in the GSA are gender-neutral. The event will be in English. ASL interpretators will be available upon request.
Minimal or scent-free please.
If you would like to help volunteer or have any additional questions, please contact us at pres@gsacarleton.ca