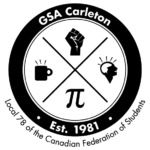 Office and Communications Coordinator
Position Term: One-year contract with possibility of extension
Remuneration: $49,000-$53,000 to be negotiated commensurate on qualifications and experience, plus benefits package
Job Description: The Office and Communications Coordinator is a full-time position responsible for the management of office administration and the communications strategy of the Carleton Graduate Students' Association.
Qualifications: 
Experience overseeing office administration
Communications experience (including website and social media administration)
Experience in event coordination
Ability to work independently and as part of a team
Experience with graphic design and experience using Adobe Suite
Strong understanding of network systems

 

Experience using Microsoft Excel
Assets:
Staff relations experience in a unionized environment
Experience working in university and/or student organizations
Experience working with volunteers
Media/public relations experience
Experience working within an anti-oppression framework
Deadline: Monday, May 21st, 2018
Submit your one-page cover letter and resume in pdf or docx format to GSA Carleton Hiring Committee via jobs@gsacarleton.ca
The GSA values employment and educational equality and welcomes applications from diverse groups including but not limited to: people impacted by gender oppression, Indigenous people, racialized people, people with disabilities and LGBTQQIA2S+.
Only those granted interviews will be contacted.