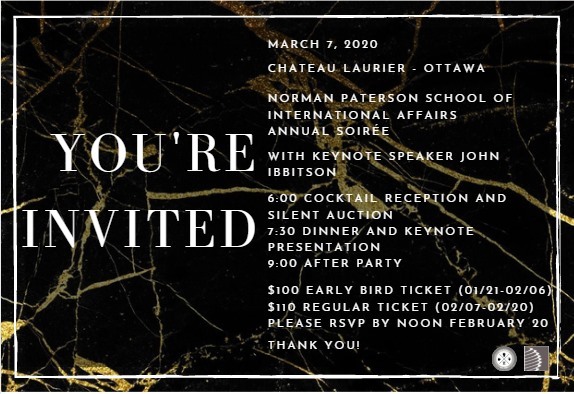 The Norman Paterson School of International Affairs is excited to announce that tickets to the NPSIA Annual Soirée are now on sale. Early bird tickets can be purchased from January 21st, 2020 to noon on February 6th, 2020, for $100. Regular-priced tickets can be purchased from February 7th, 2020 to February 20th, 2020, for $110.
The event is business-formal/black tie optional. Proceeds from the evening will go to the John Ibbitson scholarship. The scholarship is awarded to university students in need from rural and northern Ontario.
The Soirée will open with a cocktail reception and silent auction at 6pm. A three-course prime rib dinner will begin at 7:30pm, with a vegetarian alternative available. Please advise should you have any allergies or dietary restrictions.
Following the main course, a keynote presentation will be made by John Ibbitson, author and journalist with the Globe and Mail. The event will close at 9pm, with an after party taking place on site immediately after.
A cash bar will be available for the duration of the evening.
Guests are expected to abide by all Chateau Laurier policies, including the maintenance of a safe, smoke-free environment. Failure to abide by hotel policies may result in the removal of guests and the forfeiture of your ticket.
No physical ticket is required, however please bring valid photo ID. Please note that there will be no last-minute ticket sales and all ticket sales are non-refundable. Tickets may be transferred, with the approval of the NPSIA Student Association. Please email cunpsiasoiree@gmail.com for more details on transfers.
For more information, please reach out to cunpsiasoiree@gmail.com, or reach out to us on Facebook at https://www.facebook.com/npsiastudentassociation/.
To buy a ticket, please follow this link: https://forms.gle/38rvHCxeXmgXrPqj6
Thank you, and we look forward to seeing you in attendance!
The NPSIA Student Association