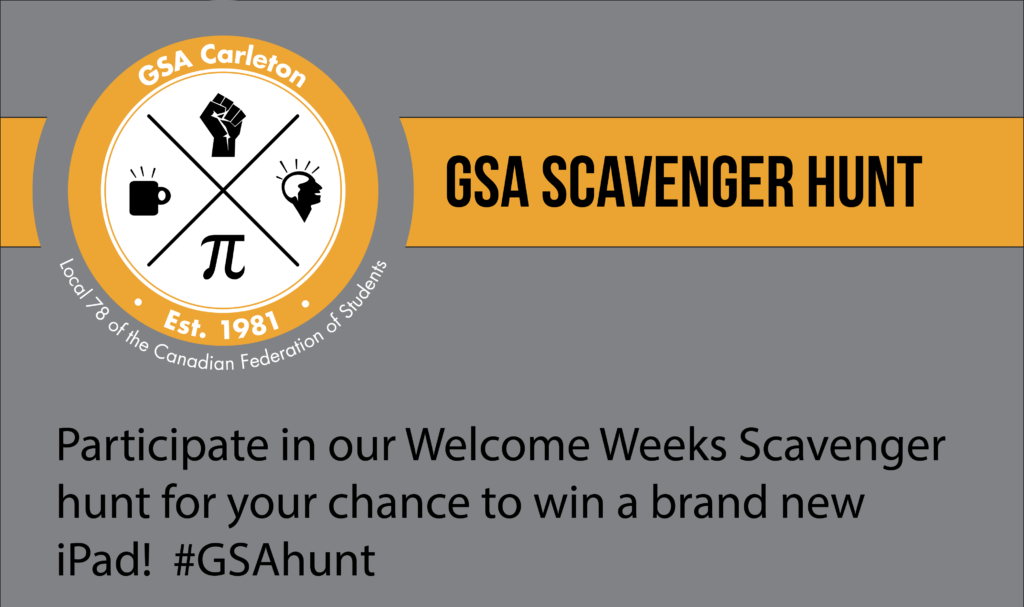 Participate in our Welcome Weeks photo scavenger hunt for your chance to win a brand new iPad! Make sure to follow us on Facebook and Twitter to receive the challenges #GSAhunt
Prizes:
Our grand prize is a brand new iPad! There will also be other cool prizes up for grabs!
How it works:
We will be releasing challenges on social media and our website each day starting September 5th
Take photos and submit them to the GSA
You will receive points for every completed challenge
Bonus prizes for creative or funny photos!
Winners will be announced at our Live Music at Mike's event!
Submissions:
You can either share their pictures on Facebook/Twitter using #GSAHunt or send them to OC@gsacarleton.ca.
Challenges list:
Take a selfie with an item that has the GSA logo on it.
Picture of your GSA handbook/Planner
Your favourite tunnels painting.
Take a picture of the GSA garden.
Picture of your GSA button collection (hint: you can grab buttons from our office or Mike's place)
Free food at any GSA Welcome week event (hint: Grad fair happening today with lots of free food!)
Take a picture or a selfie at our Mike's Place Pub
Last challenge! Get a selfie with one of the executive members of the GSA. (Bonus points for multiple execs!)
Make sure to come to tomorrow's Music at Mike's to get your prize!