Garden

Kitigànensag, Algonquin for "little gardens," is a student-run project that promotes local, organic food production, education and community building. It is a space where members of the Carleton community come together to grow and enjoy healthy, socially just, and sustainable food.
The garden is located at the southeast corner of the Nesbitt building, beside the River field (where the GSA softball league is held). Garden plots are free, and two are wheelchair accessible. Applications for plots are open to all members of the Carleton community, with preference going to graduate students. Planting season normally begins in May and runs until October.
The Graduate Students' Association works within an anti-oppression framework and fosters an open and inclusive environment. We acknowledge that Carleton University is located on unceded and unsurrendered Algonquin territory, and appreciate the support from the aboriginal community and the efforts of the elders who collectively agreed to find an appropriate name. This name demonstrates that as a community, our vision of student food sovereignty involves solidarity with the struggle for Indigenous sovereignty.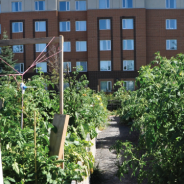 The GSA executive has been meeting regularly with Dr. Wallace Clement, Dean of the Faculty of Graduate and Postdoctoral Affairs, to reach an agreement on moving the garden to the new site. The new agreement will oversee the move from the original location to a new location behind the Nesbitt Building, including moving existing structures, the purchase of any new materials required, the cost of associated staff hours, and the installation of a new interpretive panel explaining the connection between the Algonquin people and the garden. The new...
read more