An Important Update on the Student Choice Initiative:
In a recent ruling, the courts have quashed the Student Choice Initiative. You can find more details here:
Student associations win in Divisional Court
We've archived information on getting involved below, and you can click the link at the bottom of the page to sign up to work on student issues.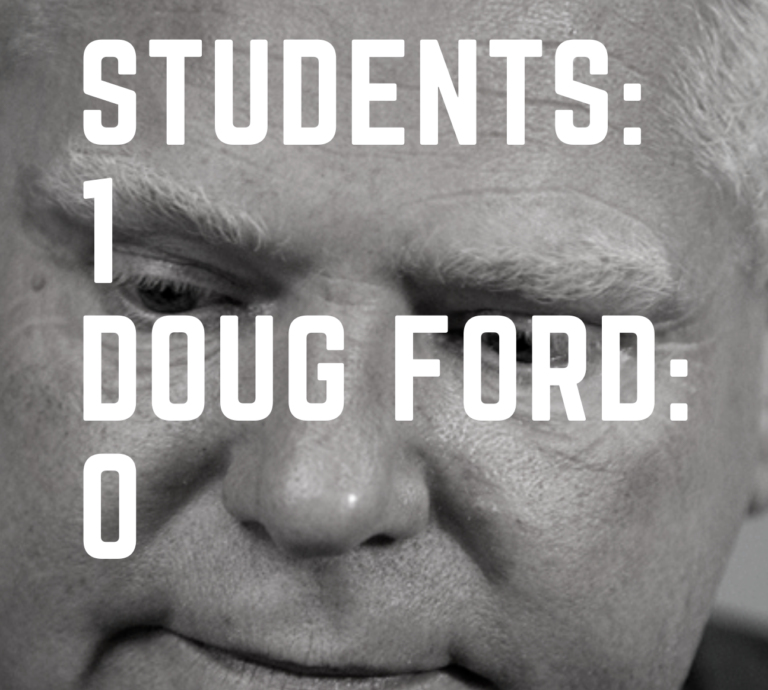 The student choice initiative (SCI) was introduced by the Ford government in January 2019. Ironically, rather than offering choice, the SCI does just the opposite. It impedes on the choices and autonomy that you, as a graduate student, can make about the services offered to you by the Graduate Students' Association (GSA) and other student services. This is a direct impact on the future of student unions and our ability to represent your interests.
The GSA has represented graduate students at Carleton University since 1981. Our advocacy work and student services have been essential to the success of students. We administer services like our health and dental plan, inexpensive printing, and provide grants and awards for graduate students. We are also the leaders in advocating for better access to education through lower tuition fees and increased public funding.
Because we are all part of the union, continued membership ensures that we can offer our services at accessible prices, or at no cost at all.
When you, as a student, stay opted in it will ensure the continuation of our services at accessible prices. It will guarantee that grants and funding opportunities are available for graduate students, and that spaces for advocacy, campaigns, and social spaces continue to operate. On June 21st-27th, as you select your courses, you can make the choice to stay opted in to your student union.
Our Fee Breakdown is as follows:
Community Engagement & Student Advocacy
The Graduate Students' Association offers services, advocacy, and community for over 3,900 graduate students at Carleton University. We work to ensure graduate student representation throughout the university, and advocate at the municipal, provincial and federal levels on issues including affordable education, accessible public transit, research funding, academic freedom, and ending rape culture. This fee ensures that students have adequate representation when fighting these issues. For more information on some of our campaigns, visit gsacarleton.ca/campaigns.
Grants, Scholarships & Awards
The GSA offers thousands of dollars in grants and awards such as the Travel Grant, Health Leave Grant, Emergency Grant, Student Organization Grant, Family Leave grant and more! Without this fee, there will be significantly less money to provide to students for grants, scholarships and awards. To ensure you remain eligible for these grants, scholarships and awards, make sure you opt in to this fee.
Support Centres
There are eleven service centres that offer a variety of programming and resources for students. Each service centre is responsible for meeting the needs of our diverse student population and enriching student life in meaningful and inventive ways.
If you want to help resist the student choice initiative, please enter your email address below: